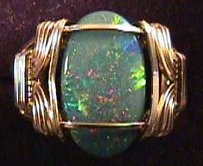 GEMOLOGICAL ESOTERICA LLC ® We are formerly Stones by Sandy
We have the same owner & many of the same services.
You can check out our main website:
http://www.gemologicalesoterica.com
You can also check out out Etsy store: GemologicalEsoterica
If you are looking for Juzu Beads, please click on the redirect above & go to the Juzu Pages at Gemological Esoterica LLC for current product.
We are a Metaphysical Rock Shop near St. Paul, MN, We specialize in custom made wire wrapped jewelry in Sterling Silver, 14kt Goldfilled & Copper wire. We also have quite a large variety of loose stones, cabochons, faceted stones & larger specimen stones. We carry over 300 jewelry pieces in stock & hundreds of different types of stones & minerals.

Check out our Specials Page for information on where we are teaching classes, participating in shows & to find out what's on sale at the shop.
We send out an email each month telling people what is going on at the shop. Please contact us if you would like to be put on our email list
.
What We Do
We began wire wrapping stones 20 years ago as a means of setting unusual freeform stones. Wire wrapping is a method of stone setting that goes back thousands of years. Stones are set in drawn wire, using no solder or glue. This creates a truly unique setting.
We wire wrap pendants, earrings, rings & enhansers, to name just a few styles. We are happy to work with you to create a truly unique piece.
We have also expanded the business over the years. We make Energetic Sprays, Juzu Beads, teach Metaphysical Stones Classes, Balance the Chakras & give Intuitive Readings.

People
Sandy is a GIA certified Gemolgist & 4th Generation Intuitive, specializing in helping people pick out the best stones for whatever their goals may be.
She performs Chakra Balancing and teaches Wire Wrapping & Metaphysical Classes.
See the Classes Page for a description of classes offered.

Don teaches Advanced Wire Wrapping Designs.
You can reach us at 651.246.2022.
We are open by appointment.